I asked "What's your favorite community-engaged business?" and Angela Brown of @coolcitydogs answered. The ensuing conversation made me laugh and, more importantly, educated me about Annabelle's Pet Station, a Lansing gem I knew little about.
My dogs show more love every day than most people muster in a lifetime.  I was moved by the passion exhibited by these pet lovers, who make their mission to create a better life in Lansing for pets and owners alike. Don't have a pet? Get one. Then read this.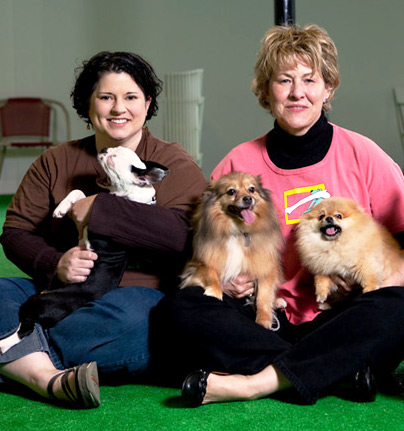 1. Who are you? No, really who are you? Business-wise, personally… how do you see yourself in relation to the #lovelansing movement?
Business-wise and personally, we are, at our core, dog-lovers. Ann Andrews and I are both lawyers, with full time jobs outside of AnnaBelle's, who started this business three years ago because we saw something missing in Downtown Lansing – dogs.
As busy lawyers who worked in downtown Lansing, we both wanted a place downtown to take our own dogs and, at the same time, we just wanted to see more people with dogs in the Downtown area.  To us, that is a sign of vibrancy and life that every city needs.  And, that is how the plan for AnnaBelle's began to take shape in early 2007.
AnnaBelle's has become a unique environment for dog people, it is not just day care, or training, or grooming. It's more of a collective of like-minded people who care about the human-animal relationship. Our clients have become family, just like our staff and trainers. Most of our business is referral based and we think is because we are support and nurture relationships, internally and within the community.  To us, to #lovelansing means making an effort to support the Lansing community and helping make it a better place to live and work for everyone.
2. What is a "cool city dog?" What makes a city dog cool, in your eyes?
The concept of a cool city dog stemmed from the Michigan "cool cities" initiative. In our view, no city is truly "cool" unless you see people with dogs all over town.  So, we wanted to help bring a dog-friendly cool city atmosphere to Lansing not just by building our business, but by educating people about how they can have a well-behaved, well-socialized dog that they are proud to take with them anywhere and everywhere.
The number one reason dogs are surrendered to animal shelters is due to behavior problems.  Most of those problems are easily addressed with education and expert advice.  Part of AnnaBelle's mission is to intervene in these situations before surrender seems like the only option by offering behavioral counseling, training classes, and doggie day care.  We have experts in all types of training and behavioral problems.  We also strongly encourage people to socialize their dogs by offering a dog activity group, where most of the activities are cheap to free, and we started a community website where people can find dog friendly places and activities in the Lansing area.
Some people seem to object to a place or community becoming "dog friendly" because a lot of people don't have well-behaved dogs.  We want to help people have dogs who plainly overcome that objection. Through these efforts, we hope to help Lansing become a "dog cool" city, which is not just dog-friendly, it's a community that has standards for animal behavior, animal care, and the human-animal bond.
3. You're a social media monster… what are your thoughts on how social media has helped you, hindered you, connected you?
I love social media! Grrrrrrrr! But it's a good monster.  It has helped us so much to connect with real people in the community about all kinds of issues – not just dogs.
I love to be a "goto" person on twitter for all matters dog related, but I've given recommendations on restaurants, shopping, and other cool stuff in town too.  And I make an effort to share that information and to connect people with common interests.  I love when I'm at AnnaBelle's meeting a client for the first time and I pause and say…."Don't I know you from Twitter?"  I already know how much they love their dog, along with some of the issues they might be having.
Facebook has really provided us with an easy way to readily communicate with our clients and provides a wonderful forum for clients to pose questions, post information, and for us to simply share what is happening at AnnaBelle's, whether we're having a big event or we want people to see fun video of the dogs playing with bubbles!  I don't see social media as a hindrance, because I personally enjoy it.
4. Talk about your charitable work. You mentioned dog rescue, etc…
All of AnnaBelle's – owners, trainers, staff, are involved in animal rescue work to some extent.  Some volunteer at the shelter, some teach classes for shelter dogs, others offer free or discounted behavior evaluations for shelter dogs. We also offer discounted classes for dog foster parents so they can help their foster dogs get adopted.
Our pet first aid instructor, Sheila Laing, offers free Pet CPR and Rescue Breathing courses for rescue and animal welfare groups.  Our lead trainer, Carol
Hein-Creger, puts on a 2-3 hour Canine Problem Behavior Seminar every class term, which is open to the public and to rescue groups and shelters. We encourage people to come with their questions and problems!
Each of us do these small things that somehow add up to real money and real assistance to our local rescue groups and shelters.  Last year, we had a donation based Wash & Wear dog wash, where all proceeds (about $800) went to the Animal Placement Bureau and Voiceless-MI to help their rescue efforts.  People gave what they could for the washing services (anywhere from $5-$50) and also bought raffle tickets for the fun prizes we gave away.  This effort required amazing team work by our staff, along with Voiceless and APB volunteers.  It was such a hugely successful and fun event – we can't wait to do it again this summer!
We did a similar event last Christmas with the MSU PRSSSA called Paws with Claus, where your pet got his or her picture taken with Santa.  All proceeds were split between the MSU PRSSA and the Ingham County Animal Control and Shelter. We raised almost $700, which we were very excited about.  We also attend and support events put on by local animal rescue and welfare groups.
We try to be a presence, donate prizes for raffles, and help them get what they need to have a smooth and successful event.  We want to tell people that yes, we'd love for you to be a client of AnnaBelle's, but even if you're not, we still care about the health and welfare of your canine friends and family.  See some specifics at: http://www.coolcitydogs.com/home/community-involvement. And, we encourage our clients and activity group members to attend these events, not just to support local animal welfare and rescue, but to take advantage of great dog socialization opportunities.
5. What do you want us to know? What message do you want to get out there?
Our primary message is simply our mission, which is "to make dog ownership easy, fun and fulfilling so that everyone who lives and works in the Lansing community has the opportunity to enjoy the health and family benefits of owning a dog."  It is really as simple as this: We love dogs and we want everyone else to experience the love and joy of owning a dog too.
6. Aside from yours, what is your favorite community-focused business in Lansing?
Without question, Preuss Pets. Rick and Debbie Preuss have been in business in Lansing for a long time and have been through all the imaginable ups and downs of owning a business. They provide such an inspiration to the small business community. They also make such a huge effort in the community in Oldtown and beyond. We admire their work ethic and their community involvement very much and love to partner with them on activities and events.  Preuss Pets is expanding their dog-related product line all the time and they carry high-quality, affordable, and unique items, which we love to recommend to our clients.  We demonstrate many of their interactive dog toys during the Canine Problem Behavior Seminar offered by our lead trainer, Carol Hein-Creger, during every class term.
7. To you, who are the three people everyone needs to connect with? There can be more than three, but who do people need to know and why?
We just couldn't figure out how to answer this because there are so many people who've helped us along the way with advice and so much more. And what we've learned is that sometimes the people you "need to know" to be successful actually surprise you and just somehow come into your life. We've had so many instances where some connection was made years ago or just last week and turns out to be so important to us.
For example, I took classes with Carol Hein-Creger for years before we decided to start AnnaBelle's. I just called her up and said "we're looking for a trainer, are you interested?" She sure was! With Carol, came Erinn Hadley, who was her assistant.  Erinn is now our conformation instructor and staff Team Leader.
Angie Falcsik, one of our other trainers, works part-time with Ann Andrews at her "day job" and that's how she came to work with us at AnnaBelle's. Another trainer, Dawn Archer Pizzoferrato came to us through a connection with Jan Szur, a local small business woman that we met through inForum.  Sheila Laing, our Pet First Aid instructor, came to an obedience class with Angie Falcsik as student – and they've know each other for 20 years! One thing led to another, and we now offer Pet First Aid classes with Sheila.  One of our day care staff, Erica Kaplan, moved here from Washington State with her boyfriend while he attended Cooley law school.
Just after we opened day care in January, 2010, she showed up and said "I want to work here." We didn't have a spot for her right then, but she decided to volunteer for a short while and now she's a full-time employee.  These are just some examples how every day (and often random) connections have been so important for us.
We definitely believe in karma!